Bios
[Photo by: Nancy Richards]
---
Marty
Born in Chicago, Illinois, Marty Miller (left) started piano lessons at the age of 11. He played percussion instruments in high school and took percussion instruction (drums and marimba) at the Chicago School of Music during that time. Growing up in Chicago in the 1950's he was exposed to some of the finest jazz in the world. His desire and ambition was to be a jazz musician. All during high school and college he was a jazz drummer in many jazz combos and bands. When he moved to Iowa he experienced his first bluegrass music festival and fell in love with the music. Marty decided to learn how to play the upright bass (doghouse bass) since the bass is the percussion instrument in a bluegrass band. He bought a bass, learned how to play it, and in 1975 was one of the founders of the Skunk River Bluegrass Band. He has been in several bluegrass bands in the 35 years he's been a bass player.
Marty is a Professor emeritus of Sociology at Iowa State University. His teaching, research and consulting specialties are: criminal justice, juvenile delinquency, prevention, youth development, and youth sports.
---
Tom
Tom Richards (center left) is an Ames native who's performed with numerous acoustic bands over the years. Also a veteran solo performer with guitar, Tom brings his soulful vocal prowess to the band, as well as his timely mando chops and leads. Tom is an artisan carpenter and woodworker.
---
Wyatt
Wyatt Jamison (center right) is an Iowa State Fair Fiddle Champion and the newest member of the Barn Owl Band. Wyatt grew up in Des Moines and now attends Iowa State University as an engineering undergraduate.
---
Jon
Jon Duvick ( far right) was born in Des Moines, Iowa and is a founding member of the Barn Owl band. Initially playing bass, Jon switched to guitar at some point in the evolution of the band, and he's recently added bouzouki to the mix. Jon's contributions to the Barn Owls include serving as recording and production engineer for the Barn Owl Band CDs.
---
Joanne
Joanne Olson (not pictured) is a summertime member of the Barn Owl Band, playing mandolin and 'banjolin'. A native of the Los Angeles area, she has lived in Iowa since 1999 and still prefers the California climate, but not the L.A. commute. She has a background in Kung Fu, specializing in Chinese weaponry, and also holds advanced rank in Tae Kwon Do. When not playing with swords or mandolins, she spends her time pursuing interests in archaeoastronomy and ancient timekeeping, kayaking, and the philosophy of science and engineering. She is an associate professor of science education at Texas A&M University, where she conducts research on science teacher preparation programs and teachers' decision-making.
Emeritus Members...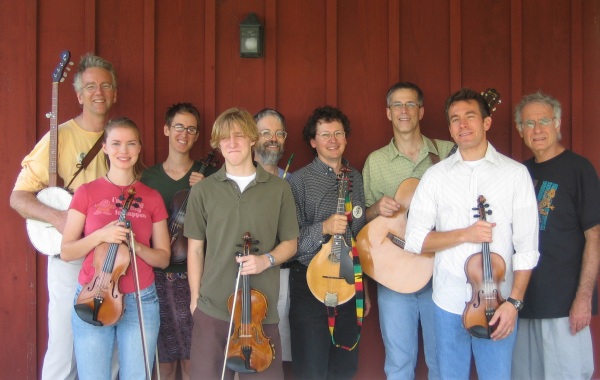 Barn Owl Band reunion at 2006 Squirrel Moon Dance & Music Festival!
---
Michelle
Michelle Bell, a charismatic fiddler and solo violinist with decades of experience, has performed beautiful melodies for wonderful people. Over the years, Michelle has shared her love of music with countless folks at various life celebrations and events. Michelle has spent many years playing in symphony orchestras, small ensembles, country, bluegrass, contra dance bands, and numerous fiddlers' contests. Michelle performs solos violin/fiddle at weddings, dances, churches, horse shows, community events, fundraisers, private parties, wineries, funerals, retirement homes, showers, and for fun. Michelle enjoys the teaching side of music and offers lessons to all ages in fiddle, violin, and piano at her home studio, and via Skype. Michelle likewise, is active with her family band "The Fiddle Chics" ~ www.fiddlechic.com
---
Roger
Born in Wichita, Kansas, Roger Alexander arrived in Iowa in 1982. In the 1980s he performed with a succession of clogging teams. He has been calling dances since 1985. In 1991 he helped start the Central Iowa Barn Dance Association and recruited the musicians who in 1994 named themselves The Barn Owl Band. Roger and his wife, Marcia Minear, spent many years calling dances together around Iowa and the upper Midwest. Roger's ambition has always been to be able to play a tune on the accordion accompanied by his own feet. Roger is now emeritus Professor of Mathematics at ISU and a competitive chess player.
---
Curt
Curt Snook was born in Nebraska, grew up in Colorado, went to school in Illinois and Wyoming, and came to Iowa to work for WOI radio in 1986. He was a voice major in college, and did his graduate work in historical musicology, Gregorian chant and Renaissance music. (His interest in "old-time" music goes way back!) Curt plays mandolin, fiddle and flute.
---
Solveig
Solveig Orngard is a multi-instrumentalist in the mold of her older brother Ehler, playing fiddle, pennywhistle, piano and organ. Solveig is a graduate of Luther College, Decorah.
---
Ehler
Ehler Orngard (fourth from left in photo above) began classical violin lessons at the age of five and started playing old-time at the ripe old age of eleven. Although he plays mostly fiddle (and banjo!) with the band, Ehler also plays many other instruments including bouzouki, mandolin, tin whistle, guitar, and drums. He's a graduate of Luther College in Decorah, Iowa.
---
Catherine
Catherine Miller (left front in the photo above) has been playing violin for most of her life. She received her degree in vioin performance from the University of Iowa in 2003 and began playing with the Barn Owl Band in January, 2006. In 2009 Catherine left Iowa for Boston where she has been steadily gaining recognition as a go-to fiddle player for contradances, Scottish balls, etc.
---
Reggie

Reggie Greenlaw graced the Owls with his wonderful guitar licks, singing and sense of humor for a spell in 2008. Reggie was born in La Crosse Wisconsin, and moved all over the place before coming to roost in Ames to raise his family with Barbi, his long-suffering wife. He's taught special education in Ames for 30 years, and is now a born-again Literature teacher at Ames High School. His instruments of choice include hammered dulcimer (playing regularly at renaissance festivals while wearing sissy clothes), guitar, mandolin, autoharp, and a couple of esoteric folk instruments. He's also spent years performing alone as a singer songwriter, and continues to perform in local venues in the Ames area.
---
Alice
Alice McGary (third from left in photo above) has been playing fiddle more than half her life, studying with both Midwest and international fiddlers. She completed an apprenticeship with one of Iowa's finest fiddlers, Al Murphy, through the Iowa Arts Council's Traditional Arts Apprenticeship Program in 2004 and has played with several other old-timey dance bands in the central Iowa area including the Powesheik Pluckers and the Porch Stompers.
---

Brad
Born and raised on the West Coast, Brad Johnson has played various instruments since age six, and settled on the mandolin as his life instrument as a teenager. Brad has performed semi-professionally for most of his life in bands and ensembles that have played bluegrass, old time, country, jazz, classical, folk, rock, Celtic and fusions of the aforementioned.
---
Jason
Jason Huntley (second from left in photo above) grew up in Westside, Iowa and started playing piano at age 5 and violin at age 9. He was first taught Irish fiddle tunes by his grandfather, and began classical violin training soon after. Among Jason's musical accomplishments: three-time Mid-American Irish Fiddle Champion, two-time Mid-American Old-Time Fiddle Champion, and most recently his selection as the Grand Champion Fiddler at the 2001 Iowa State Fair.
Jason is now Associate Professor at the University of Toledo.
---
Merle
Merle Hall (far left in photo above) was born in Des Moines and is undoubtedly Iowa's leading exponent of the clawhammer style of 5-string banjo, with a laid-back, tall grass prairie style. In fact, he won his current instrument in a national banjo contest. In a former life, Merle performed with the Central Iowa bluegrass group Hybrid Grass. Merle is an old friend of Jon's, as well as an original member of the Barn Owls.
Merle is retired from a career as facilities information manager at Corteva.
---
Mike
Born in Providence, Rhode Island, Mike Bell (center in photo above) cut his musical teeth playing the mysterious octalute in the Outhouse Shouters, a family string band with his two brothers, his father, and an older cousin, featuring his dad's virtuoso wash-tub bass playing. He later graduated to playing tenor banjo in a jug band whose most notable claim to fame was getting gonged on the Gong Show. For many years, he played New England barn dance music with the Connecticut bands The Fiddleheads and Froggie on the Carport. Mike also composes music and his tunes have been recorded by Wild Asparagus, Swallowtail, Skip Healy, Fool's Gold, and, of course, the Barn Owl Band. Lately he has been focusing on classical composition for piano, string quartet, symphony orchestra, and mandolin orchestra, and has had a number of recent premieres.
For his day job, Mike is a Professor of Rural Sociology at the University of Wisconsin, and the author or editor of seven books, three of which won national awards. His main research specialty is environmental sociology.